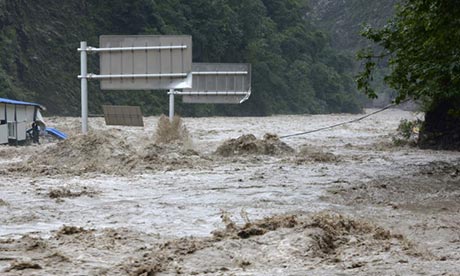 Typhoon Soulik threatens chaos in China and Taiwan as flood toll mounts
Schools, offices and airlines closed or disrupted with more than 200 dead after torrential rain in parts of China
China and Taiwan braced on Friday for the impact of Typhoon Soulik as the toll of dead and missing from torrential rain across large parts of China climbed beyond 200.
Soulik was expected to hit northern Taiwan later on Friday, before crossing the narrow Taiwan Strait and slamming into China's provinces of Fujian and Zhejiang on Saturday
The storm will also pass close to the far southern Japanese islands of Ishigaki and Miyako.
China has ordered fishing boats to return to port and suspended ferry links to Taiwan, the official news agency Xinhua said.
Large parts of China are already being lashed by torrential rain.
At least 36 people have died in flooding in the southwestern province of Sichuan since the weekend, and 166 people are missing, the China News Service said.
State television has broadcast dramatic pictures of bridges and houses being washed away around Beichuan and Dujiangyan in Sichuan, a region still recovering from a massive earthquake in 2008 that killed nearly 70,000 people.
For any with eyes to see and ears to hear, take heed, the God of the Bible did forewarn that a time of trouble so great would come to pass, and be preceded by earthquakes, famines, nations rising against one another, with wars and rumours of wars, and pestilences in diverse places, and that these would be the beginning of sorrows. Matthew.24:6-7.
A defining feature in the churches of God today is also accurately foretold in verses 11 & 12, saying;  "And many false prophets shall rise, and shall deceive many. And because iniquity shall abound, the love of many shall wax cold. 
How true and astonishingly accurate are the words of this prophecy! In today's topsy turvy mixed up, confused and chaotic world of "religious-beliefs" there is little resembling the truth and teachings of God's one-true church, and their sacred, and ancient teachings. And the churches are all following men in place of Christ, and the many indeed are being deceived! Some with soft teachings, others with hardline indoctrination and falsehood. The LOVE of MANY has also indeed WAXED COLD, but why? Because INIQUITY shall abound! Iniquity is lawlessness, and lawlessness is the transgression of God's Law. And today, the churches have largely become LUKEWARM to God's Laws, one saying to me he didn't think it mattered any longer whether God's holy days were kept in accordance with set times, as long as we keep them in the spirit of the Law?
Is that what anyone understands about the keeping of the Sabbath day God commanded to be kept forever? Should God's Sabbath be kept in some ethereal and mystical airy-fairy manner such as this? Did not the God of Abraham, Isaac and Jacob command the children of Israel thus: "Speak ye unto the children of Israel, saying, Verily my Sabbaths ye shall keep: for it is a sign between me and you throughout your generations; that ye may know what I am the LORD that does sanctify you. Six days may work be done, but the seventh is the Sabbath of rest, holy to the LORD: Whosoever does any work in the Sabbath day, he shall surely be put to death. Therefore the children of Israel shall keep the Sabbath to observe the Sabbath throughout their generations, for a perpetual covenant. It is a sign between me and the children of Israel forever: for in six days the LORD made heaven and earth, and on the seventh day he rested and was refreshed. Ex.31:15-17.
Most in God's churches know and understand this as a basic foundational teaching, but when we fail to connect the principals of even a basic teaching as this, we can easily be deceived, and begin to go off track and act and think in error. One doesn't have room to expound these teachings here, but essentially, all of God's Laws are in force and living motion, with the entire heavenly sphere being upheld and sustained by the Laws the Great Creator designed and set to order the endless universe! When these Laws are broken, the result is lawlessness in varying ways, and the effects are all around us in this sinful, dead and dying world. And we must learn to practise them, physically, in principal, and in the spirit of each and every Law, because once a Law is broken, as the apostle James wrote, we break them all! (James.2:10)
Suffice to say, in this Godless world of mankind, penalties will continue to abound, because iniquity and Lawlessness abound, and the love of many has waxed cold. As one of many "effects" we see playing out before our very eyes, if we can truly see, these  troubles will continue to increase until the prophesied time of world conflict, and world war III arrives, called in scripture, The Great Tribulation, and time of Jacobs trouble unleashes powers and horrific effects on our world, especially the west, for it's disdain and rejection of God Almighties Laws! Matthew.24:15-21.
There is a great deal more. Write for your free information. You and your family can escape all this. Seek and you shall find, ask and you shall receive. Freely we have received of the LORD, freely we give.