https://www.devex.com/news/philippines-rebuilds-6-months-after-haiyan-as-typhoon-season-looms-83439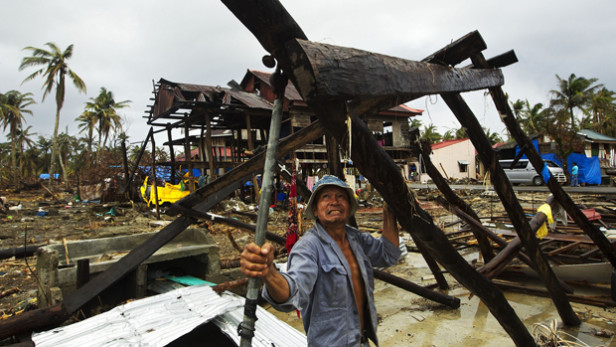 A man tries to rebuild his house that was ruined when Typhoon Haiyan hit Eastern Samar in Novermber 2013.
Photo by: Plan Asia
Six months ago today, Typhoon Haiyan, one of the strong storms ever recorded, slammed into the Philippines. 14.1 million people were affected, another 4.1 million displaced, and the losses and damages reached an estimated $14 billion dollars. Over 6,200 people died, and more than 1,000 are still missing.
The world watched as Haiyan tallied horrifying statistics on the extent of devastation and destruction in one of the world's most vulnerable nations to natural disasters. In fact, when the typhoon struck, the Philippines was still reeling from the effects of Typhoon Bopha at the end of 2012 and a 7.1 magnitude earthquake that rocked the island of Bohol just a month before Haiyan.
Even now, as we take stock of the incredible work that has been done in a very short time, typhoon season is about to start for a nation that suffers about 20 such violent storms each year. If a major typhoon were to hit the Haiyan-affected areas now, we could be looking at a potentially much worse humanitarian situation.
The experience of Haiyan sealed what many development organizations have been asserting for years: that disaster risk is most real to the poor, marginalized and vulnerable sectors of society, including women and children. These are the people who lack the social safety nets and capacities to protect themselves and recover, and are therefore left to suffer the most during disasters, when they face the higher risk of losing whatever is left of their belongings – if not their own lives. In the case of Haiyan, this translated to losing 2.6 million of the country's poorest households, and leaving 5.9 million children without a home.
In the crucial weeks after the typhoon and leading up to the six-month mark, Plan International quickly mobilized resources around the world, channelling funds and donations to the Philippines to contribute to the response and recovery process. Our appeal has so far generated more than $50 million, one of the biggest contributions from child-based INGOs to date.
Right now, Plan is supporting different types of recovery and long-term rehabilitation efforts in 143,171 households spread across 43 disaster-affected municipalities, much higher than the planned coverage of just 22 municipalities and 75,000 households.
The extraordinary resilience of the Filipino people matched the world's outpouring of support. On our end, harnessing our creative energy of our partner communities and supporting them throughout the process of self-recovery became the focus of our response and recovery work.
Essential in the recovery process is the inclusion of children: to see them not just as recipients of aid, but as active participants in the process itself. Through our strategic alliances with other NGOs, we have organized a children's multiple initial rapid assessment and other forums involving children, which then leverages their meaningful participation as a way of informing disaster risk reduction and management planning processes, assessment of response plans, and post-disaster needs assessments. We are also engaging children in more creative ways, providing them the right tools and channels for communicating what they hold as important, and therefore the opportunity for them to become agents of change.
The experience of Haiyan brought many of us in the international development community face to face with the reality of a "new normal" now unfolding before us, redefining what used to be a business as usual approach to aid work. Now, there is only the standard of quality projects with long-lasting benefits that help communities prepare for future challenges – where the only way to build, is to build back better and safer.
In the first few weeks after the typhoon, I met farmers not begging for food, but for seeds to sow so they could grow and harvest their own food. I met children who, despite experiencing severe trauma and loss, by some miracle kept the twinkle of hope in their eyes. I am always amazed by the positive attitude of children in disasters and how they cope with very difficult circumstances. Seeing children living in dangerous circumstances like these breaks my heart. But it also strengthens my resolve and that of my teams to persist in our work to contribute to a better quality of life.
The process of rebuilding will take years, and more medium-term investments in livelihoods, education and disaster risk reduction remains to be done. But what keeps us moving forward is that unbreakable Filipino spirit; that unique brand of resilience now known the world over.
Haiyan taught us many lessons in channelling our development and humanitarian efforts in more sustainable ways. Our beneficiaries taught us something much more invaluable  — that in the face of a disaster, we do not give up hope, because, life, after all, goes on.